If you have information concerning these unknown suspects: 1(800)-AA-CRIME
WE HAVE 7 PLACES TO BECOME A CRIME STOPPER! Wanted Suspects Unsolved Crimes Crime of the Week Cold Case Homicides Animal Abuse Still on the Run Missing Persons
If your tip led to an arrest - You may have a REWARD. Call 1-800-AA-CRIME between 12 & 1 PM (PST) any Tuesday to check for any pending Rewards.
Like us on Facebook!
Please note a criminal charge is an accusation. The defendant or suspect is assumed innocent unless and until proven guilty.
Tenga en cuenta que un cargo penal es una acusación. Se supone que el acusado o sospechoso es inocente a menos que y hasta que se demuestre su culpabilidad.
Sponsor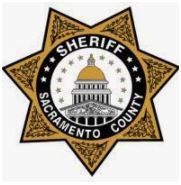 ARMED ROBBERY SSD #22-93677 CS 22-023
April 07, 2022
On April 1, 2022, at 2:20 PM, two victims were leaving Roxy Restaurant on Fair Oaks Blvd. Two suspects armed with semi-automatic handguns exited a Chevy Silverado, pointed the handguns at the victims, and demanded a victim's wallet and Rolex Submariner. The suspects assaulted the victim, resulting in visible injuries. The suspects took the watch and fled in the Silverado.
Suspect 1: Black male, 20 - 25 years old, 5' 08" to 5' 10", 150 - 165 pounds, wearing a black jacket, dark facemask, green pants, and white/black tennis shoes.
Suspect 2: Black male adult, 20 - 25 years old, 5' 11" to 6", 160 - 170 pounds, wearing a dark jacket, dark facemask, red pants, and black tennis shoes.


---
FELONY HIT AND RUN CHP-N CS 22-022
April 07, 2022
On March 31, 2022, at approximately 12:21 AM, North Sacramento CHP units responded to an active sideshow located on National Drive at Vista Park Court involving 50-60 vehicles and spectators. A light blue Dodge Charger was actively spinning doughnuts, while the left rear passenger was partially hanging out of the rear window with a cell phone in hand, and wearing a light grey hooded sweatshirt. The Dodge Charger ultimately struck a spectator causing major injury to the pedestrian and fled the scene.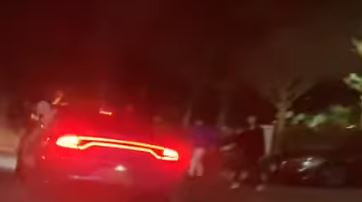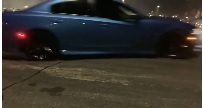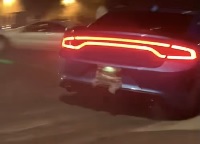 ---
SHOOTING SSD 22-86824 CS 22-020
March 30, 2022
At 11:36 p.m. on Friday, March 25, 2022, the Sacramento County Sheriff's Office Communications Center received a call from a citizen on the 1300 block of Hood Franklin Road stating he had been shot in the torso while driving east bound.
Deputies arrived and located the adult male victim who was alert and talking even though he had sustained significant injuries after being shot in the stomach and lower back. The victim stated he was driving his vehicle when another vehicle pulled up next to him and forced him to pull over. Once pulled over, the driver of the suspect vehicle began shooting at the victim who was seated in his Land Rover. While being shot at, the victim was able to crawl over to the passenger's side, exit his vehicle via the passenger's front side door and escape into an open field.
Deputies recovered more than 60 shell casings and observed 20 plus bullet defects on the driver's side of the victim vehicle. At the time of the incident, the victim could not provide investigators any suspect information.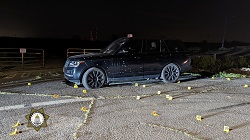 ---
MARKED ARMED PROWLER WEST SAC-SOUTHPORT CS 22-018
March 29, 2022
Does anyone know this man? Know the logo on this hoodie? The picture on the back of the hoodie? This man was in a backyard on March 29, 2022, and had a baseball bat stuffed up his right arm sleeve. He had what looks like a garrote in his left hand. He walked around the yard looking in every window and then climbed on the roof and broke a window before running way.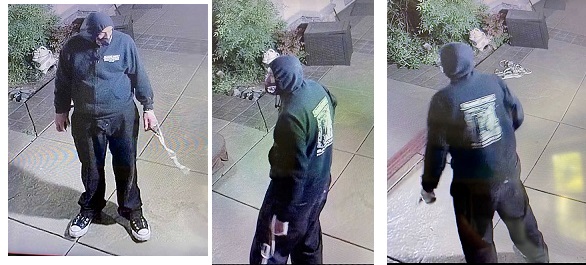 ---
HOMICIDE CHPD 21-07562 CS 21-039
March 16, 2022
On September 25, 2021 at approximately 9:30 pm, the Citrus Heights Police Department received 911 calls related to a shooting at the Montage Apartment Complex located at 12801 Fair Oaks. Responding officers observed a vehicle, matching the description provided by 911 callers, leaving the area.
The vehicle was stopped in the area of Oak Ave & Fair Oaks Blvd. An occupant of the vehicle was suffering from gunshot wounds. CHPD provided emergency medical aid; however, the victim was pronounced deceased.
The initial crime scene was located at the apartment complex. The victim's vehicle is a green Honda ACCORD. The occupants of the vehicle were two Hispanic male adults and one Hispanic female adult.
Investigators are seeking information from anyone who might have had contact or seen this vehicle prior to the shooting.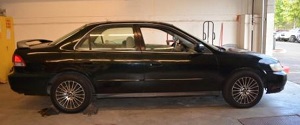 ---
VEHICLE THEFT SPD Auto Theft 22-56134 CS 22-017
March 15, 2022
On February 22, 2022, the suspect arrived at U-Haul in a Red Audi Sedan and stole a set of keys out of the key dropbox. He appeared to use a fishing rod to steal the keys out of the U-Haul key dropbox. The suspect then took the keys and drove off with a U-Haul box truck. The truck has been recovered; however, the suspect is still outstanding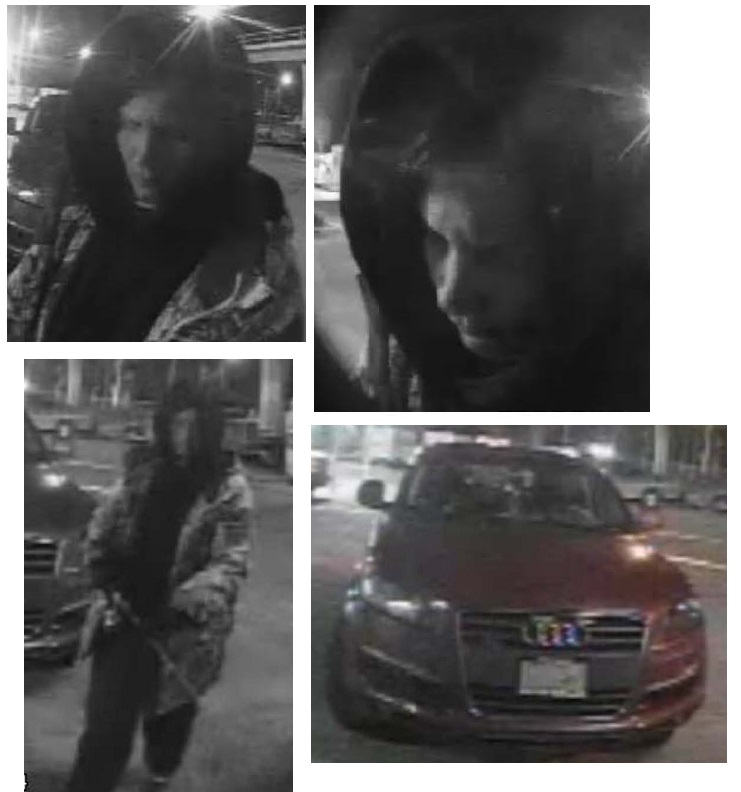 ---
BURGLARIES SPD 22-65147 CS 22-016
March 11, 2022
On March 7, 2022, at 12:34 PM, Suspect #1 entered the Raley's on Natomas Blvd. He walked to an unattended register and opened it with a key, removing cash before leaving.
Since February 10, 2022, both suspects have committed this same crime at six separate Raley's throughout Sacramento County. They have been observed leaving in a possible 2001-2007 Dodge Caravan.


---
VEHICLE THEFT SPD Auto Theft 22-59079 CS 22-015
March 08, 2022
On February 28, 2022, the suspect stole a U-Haul moving truck from the U-Haul on Florin Road. The suspect arrived in a Purple PT cruiser and stole the key out of the key drop box. He then walked over to the moving truck and drove off, followed by the Purple PT Cruiser he originally arrived in. After the theft had occurred, a nearby gas station owner contacted the manager at U-Haul and advised them the person who stole the truck was observed stealing from their gas station previously. The moving truck has been recovered; however, the suspect is still outstanding.

---
ARMED SMASH AND GRAB ROBBERY Roseville PD 22-11459 CS 22-014
March 07, 2022
SUSPECTS CAUGHT ON CAMERA
KCRA 3 video shows around 10 people smashing the glass at Valliani Jewelers and reaching in to grab the jewelry before running into the nearby JCPenney.
The Roseville Police Department said one person held a gun while the others destroyed the store's cases and took the merchandise. All 10 thieves are believed to be between 16 and 22 years old.
Surveillance footage caught the thieves escaping in two cars that were waiting outside the mall, described as a silver four-door Chevrolet and a bright orange Dodge Charger.

---
ARMED ROBBERY SPD NCU-N 22-56121 CS 22-013
March 01, 2022
On February 24, 2022, at about 2:00 PM, three suspects robbed the victim by force at the Dollar General on Harris Avenue.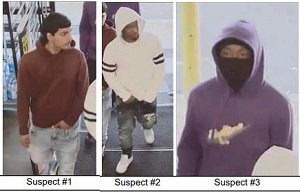 ---